Los Gatos Park Dance was a Great Success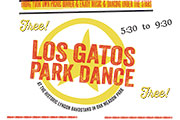 The Los Gatos Community Foundation held their annual Los Gatos Park Dance on Saturday, September 5, 2015, in Oak Meadow Park, Los Gatos.
It was a great success and everyone had a wonderful, fun-filled musical time. People took rides on the train and carousel at Billy Jones Wildcat Railroad. They also enjoyed bar-b-que at the concession stand and joined friends for the live dancing under the stars.
Los Gatos' hometown band, The Houserockers, found the way to show how much they treasure their community and have done so each year by playing in one of our most picturesque town locations, Oak Meadow Park. Band leader, Paul Kent states, "I love this town and it is so gratifying to be able to give back to the community." The Houserockers put on a high energy rock and soul show that people love to dance to. This year's the event also included the Johnny Neri Band.
In 2003 the Los Gatos Community Foundation dedicated the Lyndon Bandstand with the Gazebo to the Town for everyone to enjoy. It was an excellent location to hold the Los Gatos Park Dance. This free Community event has become a welcome and anticipated event on our yearly community calendar.
View photos from previous Los Gatos Park Dances.
To Like, Comment or Share about the Los Gatos Park Dance visit:

www.facebook.com/lgparkdance
This event wouldn't have been possible without our generous sponsors.